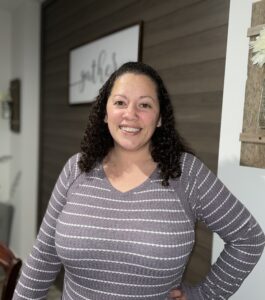 If this were sports, the news would be calling this the blockbuster free agent signing of the year.
In the title industry, we just call it making an incredible team even stronger. We could not be more excited that we recently added Alexandra Hahn as our newest Senior Title Processor. She is absolutely one of the best in the business and extremely respected by agents and colleagues across the area.
We've known for a long time that she's great at what she does, but even we didn't know that she's no stranger to meeting famous musicians or why her spirit animal is a T-Rex.
Check out the Q&A to get to know our newest superstar.
What is the first thing you saved for and bought with your own money?
Probably my first car. … It was a Nissan Altima. I actually went and got my driver's license and bought my first car in the same day.
I didn't get my license at the usual 16 or 17. I was in my 20s when I got my license. I got to work by bus, train, rides. I lived in Montgomery County and used to be big on public transportation.
Have you ever met anyone famous?
I've met a few famous people. My uncle is a famous jazz musician, Paquito D'Rivera, and he used to play with Dizzy Gillespie. I met him a long time ago. I know there's a picture somewhere.
The other famous person I met was Neo. I was in Vegas with a girlfriend of mine for her birthday. We were at a hotel he was performing at and we somehow managed to sneak into the cabana right next to the stage and got pictures with him.
What is your spirit animal?
You're going to laugh. I'm going to say Tyrannosaurus Rex. I'm short. I'm 5-1, so my arms are short. My old co-workers used to make fun of me all the time. I get multiple texts, pictures with T-Rex. One of my former co-workers gave me a stuffed T-Rex so he's actually sitting on my desk staring at me every day.
What's your craziest settlement story?
Well, recently, you should have seen me banging my head up against the wall. I was filling in for someone on vacation, coming in right in the middle of the file. I didn't realize there were four separate loans until I received instructions from the lender.
What's one thing you want people who work with you to know?
I definitely take pride in responding quickly. I'm always ready to help in any way I can.
If you had a yacht, what would you name it?
Sea Ya!