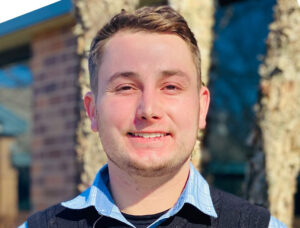 If you know Eric Carter, you know that he generally just goes by "Carter." You also know that he is always up for an adventure, and he'll do whatever it takes to get the job done for his team and for our clients.
We're fortunate to have Carter on the team at Assurance Title, and we hope to have him for a long time — at least until he escapes to Colorado to live his dream of snowboarding every day and cheering on his Broncos at Mile High Stadium.
Check out the Q&A to learn more about Carter.
If you could snap your fingers and be an expert at anything, what would it be?
Decision making. If you could be an expert at making a decision in a split second, you would never make mistakes.
What is the first thing you saved up your own money to buy?
A gas scooter. When I was 14, I saved up for a year and a half. Dude, I burned the wheels off that thing.
If you could live anywhere, where would it be?
Colorado. I've always been a Broncos fan, and I am a snowboarder. In Colorado, you get the best of both worlds: the canyons, rivers and lakes, the city life and the mountains.
What's the craziest problem you ever encountered at work?
My previous job was with Coca-Cola in Account Development. On a holiday weekend, 150 cases of product never showed up at one store. It wasn't an issue I created, but to get it fixed I went to the plant, packed my car with multiple crates of sodas and energy drinks. I delivered them myself and just got it done.
What accomplished are you most proud of?
Paying my way through college at Towson.